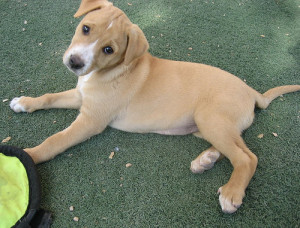 Bringing a new four-legged friend home for the first time is a special moment for the entire family. You bond with the animal, showing him or her around the house, the yard, and neighborhood. This is where they will spend their days, enjoying the company of your family while growing close to each member.
Adopting a pet is one of the most generous things you can do for an animal. The Animal Welfare League of Alexandria, Virginia, located on Eisenhower Avenue, is a great place to find a new furry companion, with cats, dogs, and other small animals looking for a home.
Before you head over to the shelter, there are a few adoption tips recommended by the Animal Welfare League:
If you're picking up a dog, bring a flat collar and a leash. Typically, a six- or four-foot leash will work great.
If you're bringing home a feline friend, please bring a cat carrier. You can purchase a plastic airline carrier for around $30 at most Alexandria pet stores.
Bring a towel or blanket to protect your car's seat fabric.
Once home, remember that your new companion will need time to acclimate to it's new surroundings. Some animals may explore excitedly, while some may have a more timid response.
Please prepare your home for the new family member, by creating a cozy sleeping spot, and/or dog/cat-proofing the furniture.
As an animal law attorney at the Law Office of Heidi Meinzer, PLLC, I highly encourage you to adopt your next companion from the Animal Welfare League of Alexandria, or any of the other wonderful neighboring shelters and rescues. Or, if this isn't the right time for a new resident in your home, support the shelter by volunteering or donating!