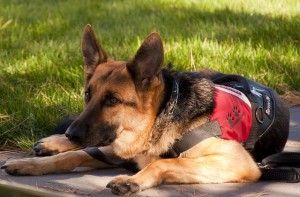 We are a couple of weeks into the 2016 Virginia Legislative Session. Here's an update for this session, with my positions as to each bill:
BILLS THAT ARE MOVING ALONG
BILLS I SUPPORT:
HB 202: This bill allows K9 search and rescue organizations to acquire, store, use and dispose of anatomical gifts to train human remains detection dogs. It's been amended to convene a work group to study options and recommend policies and procedures of using anatomical gifts for training purposes. The House passed this bill 99-0 and it's on to the Senate Education and Health Committee.
HB 802: This bill addresses the supervision of veterinary technicians, and expands immunity for reporting animal cruelty to all individuals regulated by the Board of Veterinary Medicine (rather than only veterinarians, as the law currently states). This bill has been reported from committee 22-0.
SB 363: This bill prohibits a person from knowingly, willfully, and fraudulently representing their dog is a service dog, and punishes this act as a Class 4 Misdemeanor. The Senate passed SB 363 36-4, and it is on its way to the House. The House counterpart, HB 270, was laid on the table by voice vote in the House Criminal Law Subcommittee, but hopefully SB 363 will have sufficient steam to make it through the House.
BILLS I OPPOSE:
HB 340: Last year, the General Assembly overwhelmingly voted to pass SB 1381, which clarified the definition of a "private animal shelter" to state unequivocally that all private animal shelters have the purpose of finding permanent adoptive homes for animals in their care. This year, PETA is looking to overturn SB 1381, arguing that private animal shelters should be able to have "other purposes." What other purposes, you might ask? PETA's self-reported statistics show that it euthanized 88% of the animals in its care in 2014.  The House Agricultural Subcommittee reported HB 340 to the full committee 6-1 (thank you, Delegate Keam!), but in a rare procedural move, the Chair of the Subcommittee is holding the bill in subcommittee until February 1 to see if compromise language could be reached.
NO POSITION:
HB 476: Virginia already has progressive reporting requirements for intake and disposition of animals by shelters, rescues, and animal control agencies. HB 476 would require those organizations to also submit their intake policies in their annual reports to the State Vet. I take no position on this bill, and defer to the Department of Agriculture and Consumer Services and the General Assembly as to whether they believe the extra reporting requirements are justified. The House passed this bill 98-0, and it's now in the Senate Agricultural Committee. If the bill passes, it will be good to have data, for no other reason than to demonstrate that an organization's intake policies have no direct correlation to the organization's success.
BILLS THAT HAVE ALREADY DIED OR BEEN CONTINUED
BILLS I SUPPORT:
HB 38/HB211/HB1155: These bills would grant immunity for forcible entry into a hot car to remove an unattended companion animal. The subcommittee voted to lay these bills on the table by voice vote.
HB 502: HB 502 is the Humane Cosmetics Act, which would prohibit animal testing for cosmetics and prohibit the sale of cosmetics that have used animal testing. The subcommittee recommended striking this bill from the docket by voice vote.
SB 6: SB 6 would require private animal shelters to supplement their annual report to include additional information regarding the animals they euthanize, including efforts to dispose of animals by nonlethal means and the basis for the decision to euthanize. The Senate Agricultural Committee continued this bill until 2017.
SB 18: This bill has been introduced in years past, and would establish a companion animal surgical sterilization program and fund. This bill was also continued until 2017.
BILLS I OPPOSE:
HB 156: This bill is much like HB 340, in that it would allow "other purposes" for private animal shelters. But this bill went even further, striking the requirement that the shelter's facility actually house or contain animals. Thankfully, the bill's patron withdrew it, and now the battle focuses on HB 340.
BILLS THAT ARE LEFT
BILLS I SUPPORT:
HB 37: This bill would prohibit the towing of a car occupied by a companion animal.
HB 118: This bill would amend the form of government for Fairfax County to allow animal protection police who would have the powers of law enforcement officers as well as animal control officers.
HB 302: This bill would prohibit aversive training devices and training practices for elephants.
HB 958: HB 958 clarifies that drowning constitutes animal cruelty. There is an exception for completely submerged body-gripping traps permitted for use by the DGIF that needs to be addressed in future legislation, but this is a great start.
HB 1211/SB 651: These bills require animal control officer training within one year of being on the job, rather than two years as the law currently states.
HB 1231: This bill allows a district court to order confinement leashing and muzzling for a dog who has injured or killed livestock or poultry. Current law requires killing or removing the dog to another state.
HB 1238: HB 1238 allows law enforcement officers and their survivors to purchase working animals when the animal is retired from duty.
SB 9: This is a companion bill to HB 38 and HB 211, which would grant immunity to a person rescuing a dog in a hot car.
BILLS I OPPOSE:
HB 157: This bill outlines various procedures for Department of Agriculture guidance documents, and explicitly states that a guidance document cannot serve as the basis to issue or deny an approval letter to operate a private animal shelter. This bill micromanages the Department of Agriculture, and ties its hands in enforcing SB 1381. This bill was taken up at the first House Agricultural Subcommittee hearing, but has been continued until February 1. We'll see what the future holds for HB340 and HB157.
HB 1270: This bill requires the Department of Agriculture to create a Companion Animal Care Advisory Committee. When I served on a similar Work Group, we recommended that the law require all releasing agencies (shelters and rescues) to be "incorporated" – meaning that they at least be organized and maintained as a legal entity in Virginia. This is not required for a stakeholder organization on this proposed Advisory Committee. Any stakeholder making policy recommendations for releasing agencies must at a minimum adhere to this requirement, and have bylaws that outline the organization's membership, governance, and voting rights.
HJ 160: HJ 160 requires the Agriculture and Health Departments to study Virginia's procedures for licensing cats and dogs. I support this as it pertains to dogs, but oppose it as it pertains to cats. Current law allows localities to enact ordinances to require cat licenses, but there is no statewide requirement to license cats. I oppose any effort to require cat licenses statewide, particularly unless and until the law is clarified to allow localities and public shelters to conduct TNR. This bill also requires the departments to be aided by a panel of stakeholders – and just like HB 1270, any stakeholder recommending policy must at a minimum be organized and maintained as a legal entity in Virginia, and have bylaws outlining membership, governance, and voting rights.