The Alexandria Police Department has a new recruit from an unlikely source. Meet Zara! She was surrendered to the Animal Welfare League of Alexandria last year, and caught the eye of Alexandria's K9 Unit, who decided to take a chance on her and adopt her.   Zara has lived up to their expectations and then some, graduating with flying colors from Basic K9 School.  Zara will partner with Officer Escobar and hit the streets!  Welcome, Zara!
Zara has understandably gotten a lot of press about this great accomplishment, including the AWLA, the Examiner, and Fox 5.
As a very special AWLA graduate, Zara is a candidate for the AWLA's Alexandria Animals Pet Photo 2015 Calendar Contest! If you'd like to vote for her, you can do so at www.gogophotocontest.com.  Just look for her great photo — courtesy of the AWLA's 2015 Photo Contest!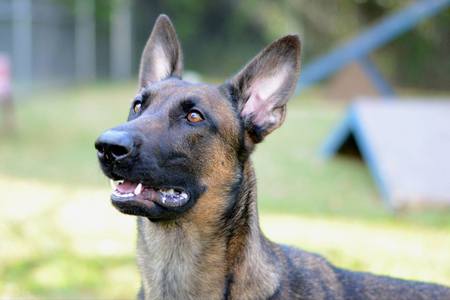 [Read more…]