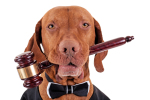 2014 LEGISLATIVE UPDATE
Virginia's 2014 Legislative Session ended up being quite dynamic, with a number of legislative victories. These changes will go into effect tomorrow – July 1, 2014.
Legislative Victories
SB 228 (Bailey's Law): This law requires pet stores to post information about the source of their dogs, including the breeders' name, city, state and USDA license number. Additionally, SB 228 gives consumers a new remedy – for veterinary bills to care for a sick dog or cat purchased at a pet store, instead of being forced to return the animal to the pet store, or to absorb those costs if the purchaser kept the animal.
SB 42 (Fox Penning): This long-anticipated law phases out existing fox pens and prohibit new pens from opening.
HB 972 (Protective Orders): HB 972 authorizes courts to grant possession of a companion animal to protective order petitioners.
SB 177 (Service Animals): This law expands the definition of "service dog" to be more in line with the federal definition, by including dogs trained to assist those with physical, sensory, intellectual, developmental, or mental disability, or mental illness. [Read more…]